Project rise was successfully completed in November 2021; another step towards enabling the future scale of bvlos and other flights in non-segregated airspace.
Project RISE was within Phase 2 of the Future Flight Challenge, funded by Innovate UK, part of UK Research and Innovation, through the Industrial Strategy Challenge Fund. Dronecloud led a consortium composed of key industry partners, including Sky-Drones, Cranfield University, Frequentis and Skyports.
Project RISE was focused on the approvals process and traffic management for flying within airspace controlled by an Air Navigation Service Provider (ANSP), integrating across a combined stack of independent software and hardware.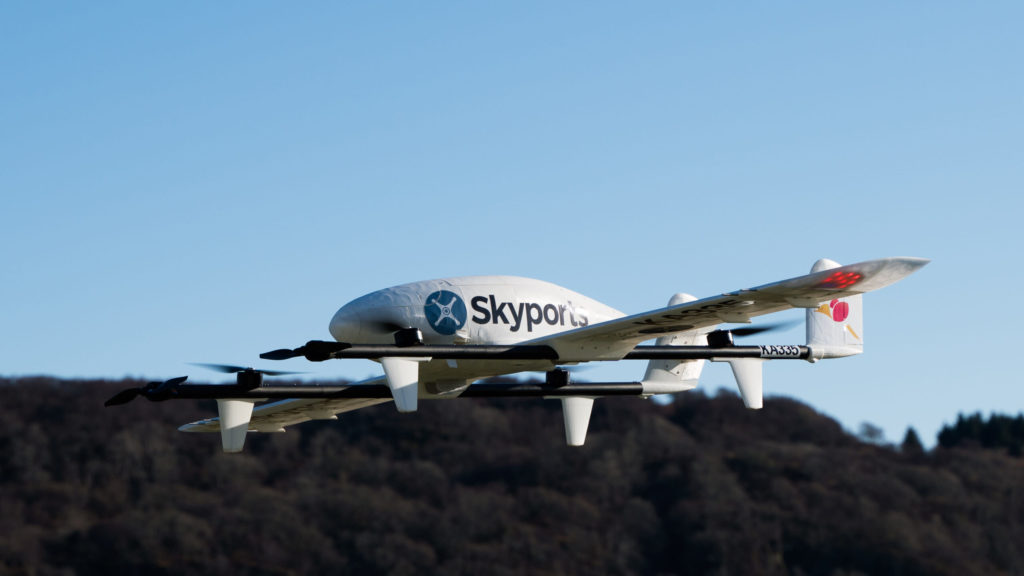 The project outputs allow automated transfers of information and communications between a drone operator and the airspace controller via a Ground Control Station (GCS), Uncrewed Traffic Management Service Provider (UTMSP) and Air Traffic Management (ATM) interface.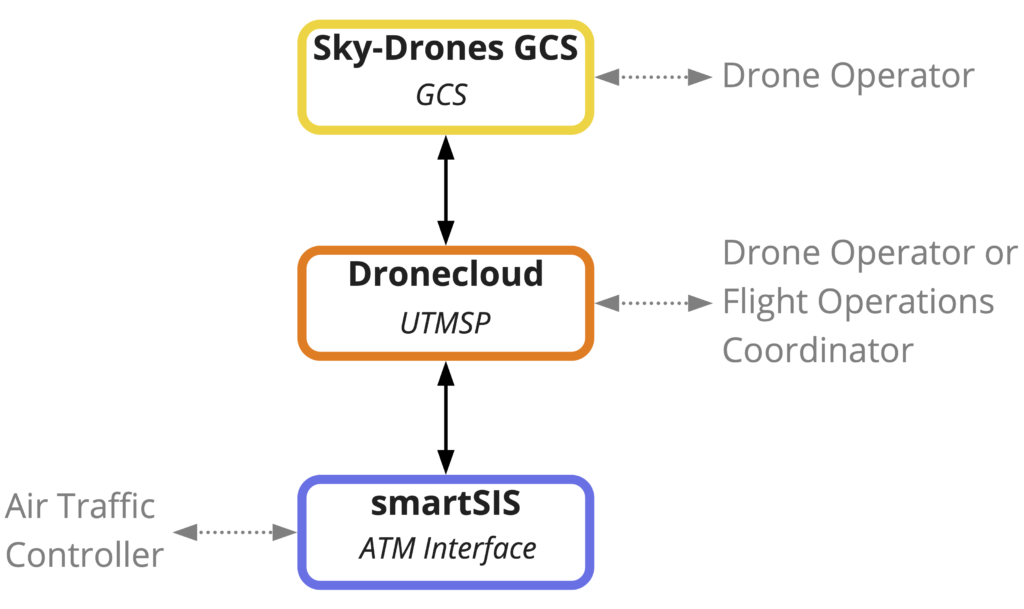 Through integrations between these systems, we can share automatically electronic ID, flight telemetry data, alerts and other communications, with a view to developing full Network Remote ID (Net-RID). This streamlines approval and traffic management, breaking down barriers to scale. At the same time, it readies the software platforms towards participating in all UTM regulatory frameworks, such as the UK's Open Access UTM Framework and U-Space.
Rather than creating a proprietary closed stack of UTM services within a single platform, RISE demonstrates an open approach to delivering a range of UTM services across multiple integrated platforms in a flexible and inclusive way. Integrations were delivered through open standard Application Programming Interfaces (APIs), allowing other GCS, drone manufacturers and providers of UTM services to connect in through these integrations.
Cranfield University completed an analysis of radio link connectivity in a UAS system to highlight the factors which affect connectivity performance needed for BVLOS, together with mitigation plans to improve it.
Read the Cranfield Report on Radio Link Analysis here
Project Outcomes
The project produced a proof of concept for automated integration of systems needed for planning and carrying out BVLOS and other flights in non-segregated controlled airspace, including achieving necessary approvals from airspace controllers. Our example use-case is an airport environment where ATC needs to simultaneously control both drones and traditional air traffic. At the end of the project, we carried out field trials at Cranfield Airport in the UK.
After Project RISE, user accounts and aircraft can be linked between Sky-Drones GCS and Dronecloud, feeding electronic ID and telemetry data from Sky-Drones to Dronecloud. If a flight is planned within an area requiring approval via Frequentis' smartSIS, flight plans are sent automatically by Dronecloud to smartSIS for approval. Approval status and alerts are tracked and displayed to the Dronecloud operator. Flights can be seen and tracked in Dronecloud's Live View, with a message centre and interactive buttons to allow a pilot or flight operations coordinator to carry out two-way integrated communication with the relevant ANSP. All significant events and communications are logged.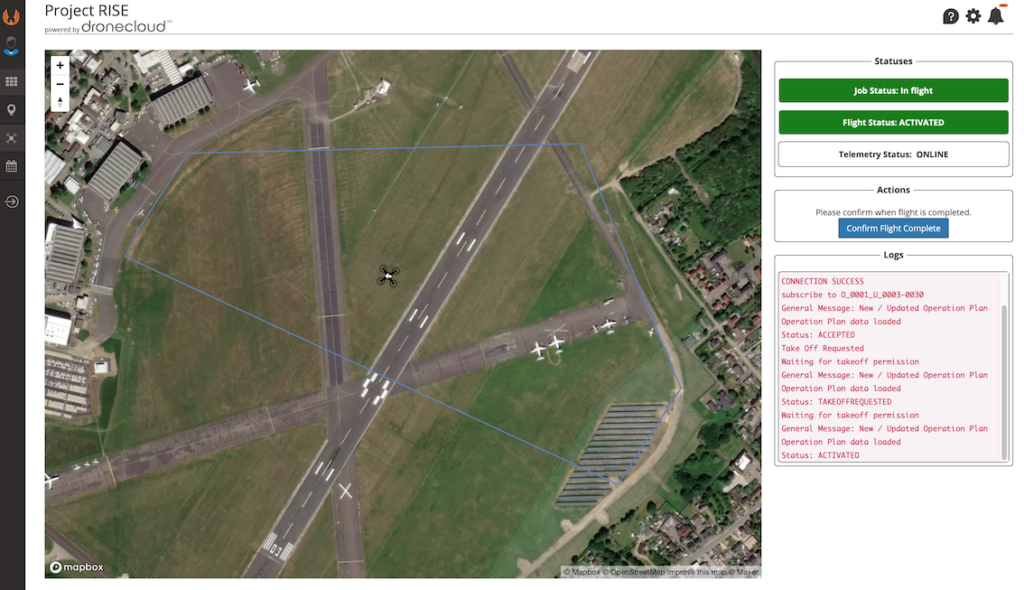 Field Trials
Multiple scenarios were tested successfully, some with more than one drone in the air at the same time. Multi-rotor and fixed-wing aircraft were used.
EXAMPLE SCENARIO – TWO AIRCRAFT IN AIR, ONE NON-CONFORMING, FOLLOWED BY AN AIRSPACE EMERGENCY
An inspection flight and a delivery flight were separately planned in Dronecloud for two aircraft to fly at the same time but not spatially overlapping. Dronecloud automatically sent flight plans to smartSIS for approval. ATC were happy with both flights and approved them in smartSIS. Both pilots could see in Dronecloud that their flights were approved, and so requested take-off. ATC approved take-off for both in smartSIS, and the flights commenced.
1. During flight, the inspection flight left its approved boundary. This potentially caused a hazard to the delivery aircraft.
2. smartSIS detected non-conformance and automatically sent an alert to the inspection pilot. ATC sent an alert to the delivery pilot from smartSIS to Dronecloud, asking to loiter in place.
3. ATC could see in smartSIS when the inspection flight acknowledged and returned to its flight plan. ATC sent a new message to the delivery pilot from smartSIS to Dronecloud to confirm now safe to proceed. Both flights proceeded with their plans.
4. A crewed aircraft requested from ATC an emergency landing. ATC pushed a button in smartSIS that set an area-wide No Drone Zone (NDZ) and automatically sent an alert to all drone pilots in Dronecloud to land immediately. Both drone pilots acknowledged and landed their aircraft.
5. The crewed aircraft was able to land safely in clear airspace.